External soffit insulation
WALLTITE® in-situ applied PUR insulation foam can be applied directly to the underside of either concrete or steel hollow rib design, ground floor structures.
This rigid insulation system does not suffer from air erosion problems and remains permanently adhered even in exposed situations.
Its low thermal conductivity maximises head room.
Ribbed or waffle shaped soffits can be rapidly, economically and seamlessly insulated with WALLTITE®.
Any penetrations into the soffit such as ceiling or pipe hangers and cable trays can easily be sealed by a WALLTITE® application, preventing heat loss and cold spots.
Certification
WALLTITE® has undergone various performance tests. Certificates are available on request.
WALLTITE® used in conjunction with a fire retardant coating will achieve a Class 0 rating.
Typical detail
External soffit insulation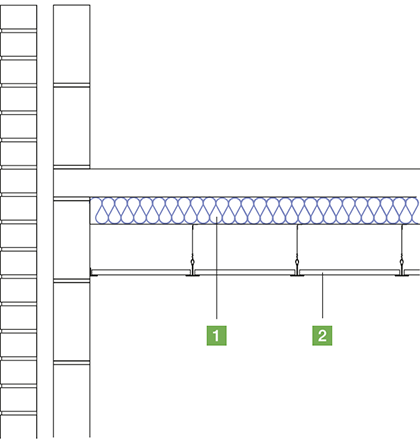 WALLTITE® CL100 insulation to achieve target U-value
Suspended ceiling​
Technical data
| | |
| --- | --- |
| NBS clause | P10 185 |
| Adhesion to concrete | 260kPa |
| Lambda 90/90 | 0.025 to 0.028W/mK |
| Fire rating | Class 1 to BS 476 Part 7 |
U-values
| Thickness of WALLTITE (mm) | U-value (W/m2k) |
| --- | --- |
| 120 | 0.20 |
| 100 | 0.25 |
| 80 | 0.30 |
Additional resources
Case studies
Other downloads